Working during vacation: Hotels respond to bleisure's flipside
2022-11-07
When it comes to bleisure, there's been plenty of buzz around how best to cater to business travelers looking to add leisure to the mix.
But much less has been said about the growing number of leisure travelers who can extend their trips by working during vacation.
The trend is an offshoot of the "workation" concept, which rose to prominence during the height of the pandemic, when remote work became standard practice for many. Though the format of a workation can vary, for some professionals it meant temporarily relocating to a leisure-focused destination for a few days, weeks or even months while continuing to log regular work hours remotely.
Related: Business hotels make room for leisure
"Throughout the pandemic, we had people traveling to all corners of the earth, doing their jobs remotely but at the same time enjoying themselves," said Angie Licea, president of Internova Travel Group's luxury division, Global Travel Collection.
"Interest in that hasn't dissipated, and consumers have now sort of gotten a taste of going to a beautiful place, having that downtime but knowing they can still work and extend that trip on either end."
For some leisure-centric destinations, the newfound flexibility around work has created opportunity. And properties are responding by adding the technology, programming and spaces to make it easier for guests to add on working days to their leisure trips.
Club rooms for work, kids clubs for play
Aruba was one of several Caribbean islands to debut initiatives related to remote work in 2020.
"We do know that this trend continues to be important, and we don't see it going away," said Ronella Croes, CEO of the Aruba Tourism Authority. "And from a development perspective, hotels are tapping into this demand as are other accommodations, and more workspaces are being offered."
Not every resort, however, is as well-equipped for business as it is for leisure. Licea cited robust WiFi and kids' programming, among other amenities, as some of the top accommodations-related requests being made by leisure travelers looking to blend business into their trip.
"They're being very specific about the property they're going to stay in," Licea said. "They're asking about club rooms and lounges they can book or about villas that can accommodate [workspace]. High-speed internet is always of the utmost importance, and if it's someone going on vacation with the family, they're also asking, 'Is there a kids club so that my kids can go play for the two hours I'm conducting a meeting?'"
At the 66-room Rosewood Le Guanahani St. Barth, managing director Martein Van Wagenberg said that the hotel is "seeing this inverse bleisure trend a lot more."
"Guests are extending family vacations at the resort because the parents can easily work remotely," said Van Wagenberg, adding that amenities including strong WiFi and childcare offerings, including the Rosewood Explorers Club for kids ages 4 to 11, have made the Rosewood Le Guanahani an attractive bleisure destination for those with children.
Janien Huistra, director of sales and marketing for the Renaissance Wind Creek Aruba and Curacao resorts, similarly agreed that having the ability to hop on a conference call anytime and anywhere has become a bigger priority for guests.
To accommodate these guests, the Aruba resort recently installed fiber-optic cable to increase capacity and internet speed. The property, which comprises the 258-room Renaissance Ocean Suites and 296-room Renaissance Marina Hotel, is building on its existing pandemic-era workation programming, which includes a package providing access to a private cabana that can be used as an office and an on-site assistant who can tackle administrative tasks and scheduling, by opening a second business center in the Ocean Suites complex.
It will join a more traditional business space at the Marina Hotel, differentiating itself with natural light, large communal tables, a more relaxed seating and what Huistra described as a more "playful" aesthetic. The venue is expected to be completed later this year.
"In the past, we had always promoted Renaissance Island and the Renaissance Wind Creek Aruba Resort as a place to disconnect," said Huistra. "But now, people are coming to enjoy themselves and, at the same time, do some work."
Nikheel Advani, COO and co-founder of Grace Bay Resorts, which has a luxury Turks and Caicos portfolio comprising Grace Bay Club, West Bay Club, Point Grace and Rock House Resort, said that he's also noticed a shift in guest behavior, with some travelers taking "time to work in the morning and then heading out to the beach."
Since the start of the pandemic, the group's Grace Bay Club has increased its internet bandwidth by 20% in response to bleisure travel trends.
"And we're constantly upgrading with more and more bandwidth," added Advani. "Because we want to offer great internet everywhere on the property. We have nooks and crannies all over that can become work areas."
When a cabana won't do for workspace
Some resorts, however, have recognized that guests may occasionally need something a bit more professional when it comes to their vacation office.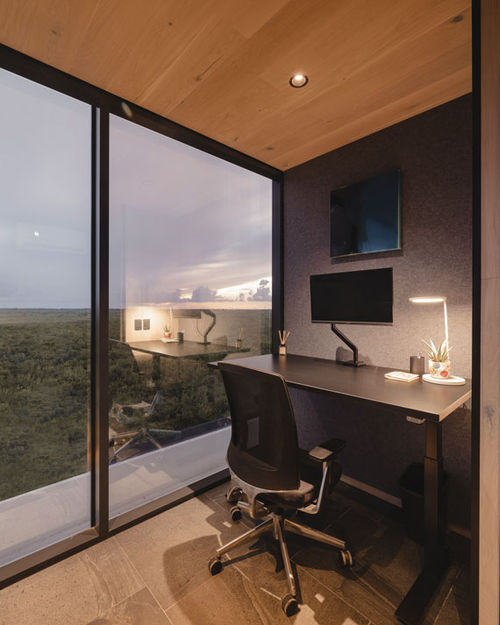 The Sensira Resort & Spa, a 359-room all-inclusive that debuted in Cancun last year, is tapping into what it calls the "work-from-leisure" occasion via a new partnership with modular workspace specialist Remo.
As part of the collaboration, Sensira in September debuted four private workspaces that can be booked by guests ($29.99 per day) and non-guests ($79.99 per day), with a team package also available. Bookings are inclusive of a high-speed WiFi connection, ergonomic furniture, a terrace, hot coffee and food-and-beverage delivery service.
"It's very different from a regular business center," said Alma Lopez, chief commercial officer of Sensira parent Arriva Hospitality Group. "Our spaces are very spacious and quiet, and you can sit and watch the sunset. And although we've just opened them, we've already had quite a number of guests, many who have come with their families, using them."
Courtesy of Travel Weekly